MULTIDEC®-LUB, CLAMPING SHIM WITH INTEGRATED COOLING AND FLEXIBLE TOOL STOP
The multidec®-LUB clamping shim directs the coolant precisely onto the tool insert, even at low pressure. The flexible stop allows for the insert to be replaced safely and quickly. The supply of coolant under high and low pressure is made through a distributor block or directly in the multidec®-LUB (IC) clamping shim.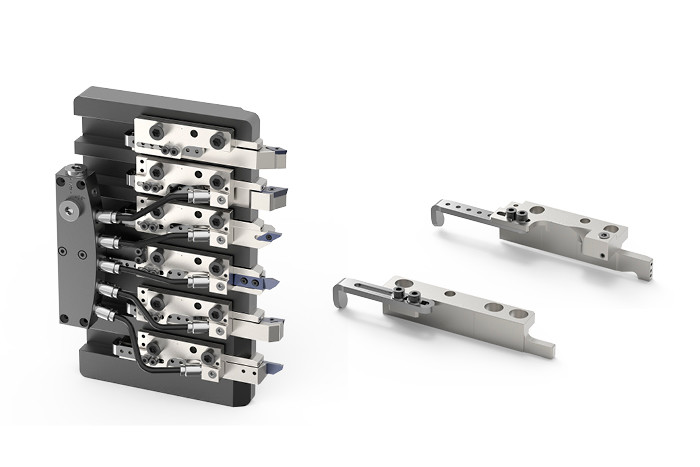 Coolant distributors with two to eight outlets, hoses in a range of different versions and lengths, plus diverse fittings and quick couplings are available as accessories for complete high-pressure and low-pressure solutions.
Benefits:
the service life of the insert is increased as the removal of chips and heat is improved thanks to the precise positioning of the cooling on the cutting edge
increased process reliability
use of the multidec®-LUB (IC) clamping shim at pressures of 30 to 200 bar or 435 to 2900 psi
quick and safe replacement of the insert thanks to integrated stop in the multidec®-LUB (SE) and multidec®-LUB (IC)
simple installation through replacement of the original clamping shim
with the multidec®-LUB clamping shim
tool holders without internal cooling (IC) can continue to be used
the clamping shim can be used under high and low pressure
for right-hand and left-hand tool holders
compact construction
different coolant distributors, hoses and push-in fittings for high and low pressure
torque screwdriver for precise clamping of the tools
สอบถามเพิ่มเติมที่
บริษัท เพรสซิชั่น ทูลลิ่ง เซอร์วิส จำกัด
Tel. 02-3704900 auto 10 lines
Email : info@ptsc.co.th