SmartBay Motion Coiled System Smart Tool Cabinet
As one of the most popular tool management systems in the library, the intelligent tool cabinet has a simple and elegant design, sturdy and durable. Knives and cutting tools are sorted and stored in the cabinet and used as needed, which is convenient for users' refined management. The automatic lifting system and the central discharging system of the library technology make the material access safer and more user-friendly. The modular design of the control system ensures more reliable use and easier maintenance. Optional applications such as a variety of identification methods, LED lighting at the discharge port, and protection device for the reclaiming door, to meet customers' more choices.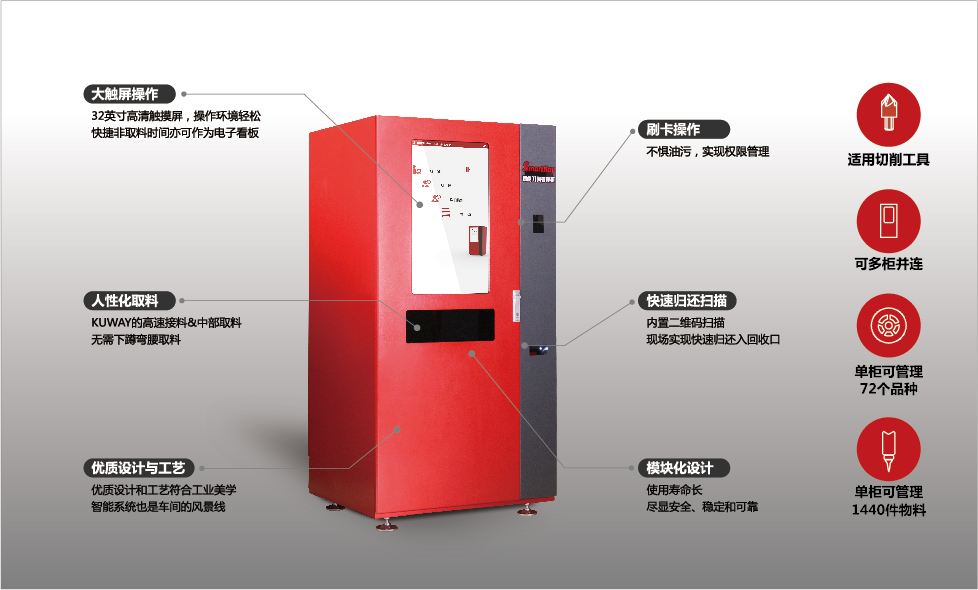 Measured index

 

Before using SmartBay

 

After using SmartBay

Picking time
5 minutes
30 seconds
Peak waiting time
30 minutes
3 minutes
Error rate
5-20%
0
Shortage rate
5-20%
0
Inventory status query
3-5 minutes
30 seconds
Report submission
1-2 working days
2 minutes
inventory
–
Down 5-25%
consumption
–
Down 5-15%
Sluggish goods monitoring
Can not control
Controllable
Product cost allocation
Not clear
accurate
Warehouse material management
Easy backlog
rationalization
*Based on the average user effect
Basic Information

total measurement
925X900X1900mm (including feet)
weight
386kg
colour
 Red, blue and gray (customizable)
screen
32 inch HD touch screen

Manageable varieties and quantities

material
Cutting tools include inserts, milling cutters, drills and taps
Most varieties
72 types
greatest amount
1296 (standard). The actual cargo lane and spring setting shall prevail.
สอบถามเพิ่มเติมที่
บริษัท เพรสซิชั่น ทูลลิ่ง เซอร์วิส จำกัด
Tel. 02-3704900 auto 10 lines
Email : info@ptsc.co.th